Laser Beam Saw has the thinner body and smaller tooth
pitches TCT (tungsten carbide tips) circular saw blade for
the sharp and smooth cutting. Laser Beam Saw AURORA
is an advanced surface coating edition of Laser Beam
Saw, and it makes more clean cutting.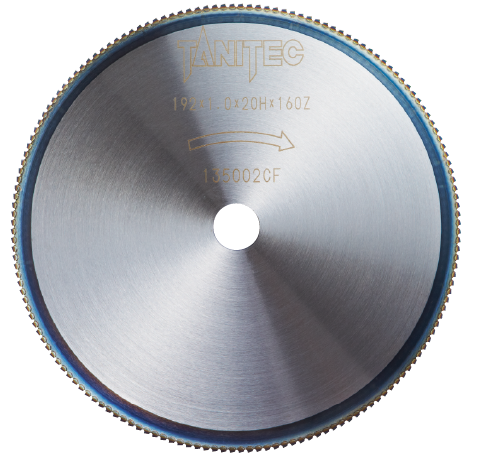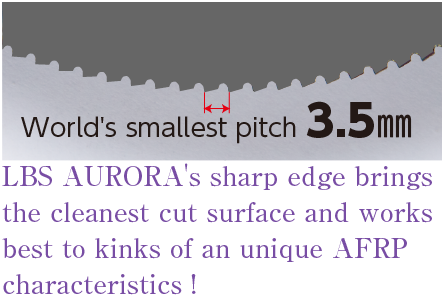 LBS AURORA's extreme thinnest technology avoids
surface meltdown during
CFRTP material cutting !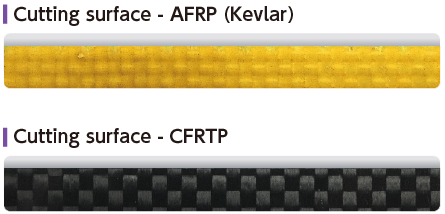 Aramid Fiber Rainforced Plastic (AFRP)・Carbon Fiber Reinforced plastic (CFRP) Carbon Fiber Reinforced Thermoplastic (CFRTP)・Resin・Plastics・FRP・Honeycomb structure・Composite Materials



Cutting Wheel
electroplated
CBN grinding
wheels
GALAXY
AURORA
Cutting
face
Fluffs
△
○
◎
○
Burr
△
◎
◎
◎
Delamination/Peel-off
△
○
◎
◎
Cutting curvature
△
○
◎
◎
Adhesion
×
×
△
◎
Heat
×
△
○
◎
Work
Environment
Powder dust
×
○
○
○
Swarf
×
×
○
○
Tool
Tool cost
◎
△
○
○
Yield rate
○
△
◎
◎
Outer diameter
φ100~660
φ100~600
φ70~355

φ70~355

Circumferential Speed(m/min)
3600
4000~5000
3000~4000
3000~4000
Wet Cutting
Depends on wheel type
OK
OK
OK